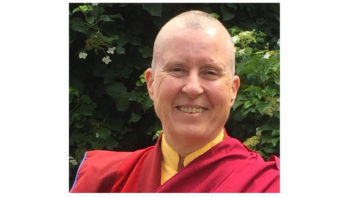 Roots of Mindfulness with Khenmo Konchog Nyima Drolma
December 8, 2017 @ 7:00 pm
-
8:30 pm
EST
HH Drikung Chetsang Rinpoche encouraged us to look to the sutras for the direct words of the Buddha in his advice for 21st Century practitioners. In the sutras we find detailed instructions on mindfulness, the key building block of all meditation and of our understanding of the fruition of mahamudra.
Khenmo Drolma will give an illustrated Dharma Talk on the foundations of mindfulness from the perspective of both the early Buddhist and Lord Jigten Sumgon's view. The presentation will focus on enhancing our understanding of mind and practice!
No fee: Donations are welcome
If you will be attending the Saturday December 9th & Sunday December 10th retreat (click to read more), we would like to invite you to register for the weekend by Monday December 4th to help us with our planning. Thank you!
About Khenmo Konchog Nyima Drolma
Abbess of Vajra Dakini Nunnery, Khenmo Konchog Nyima Drolma has trained with the foremost spiritual teachers of our time including H.H. Dalai Lama, H.H. Drikung Kyabgon Chetsang Rinpoche (the head of the Drikung Kagyu Lineage) and Ani Pema Chodron. After her novice ordination by Drikung Kyabgon in 1997, she spent two years in training at Gampo Abbey guided by Ven. Pema Chödrön. In 2002 she took full ordination as a Buddhist nun in Taiwan. In 2004 she was installed as a Khenmo (Abbot) in the Drikung lineage, becoming the first woman and first westerner in her lineage to officially hold this responsibility.  Since then she has worked continuously to establish Vajra Dakini Nunnery and teach the Dharma internationally.