EDUCATE TIBET
Children of Jamar
Reading and Writing Tibetan and Mandarin
"Today, there are two hundred families in my hometown village of Jamar (a remote region of Kham, Tibet). Many families have up to five children, and these children do not readily have the opportunity for education. I trust that, as I experienced, learning the Tibetan language will bring great opportunities for both the children and families." 
— Khenpo Samdup Rinpoche
Your contribution can help us preserve the Tibetan language and support the children of Tibet in learning the reading, writing, and grammar of the native language.
Every year, for one month during the heart of winter, when the Tibetan community is on break, there is opportunity for advancement. With the support of our village president and appointed community leaders, a new educational model will allow for students to do in-depth study for that one month, seven days per week, to lay a foundation and continue their Tibetan reading, writing, and grammar.  $10,000 US dollars can bring 15 teachers into the village to educate 500 students, and purchase materials, including chalkboards, books, pens and paper. Join us in supporting the children and preserving the Tibetan language.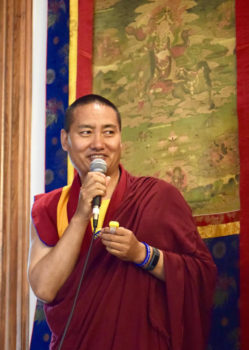 About Khenpo Samdup Rinpoche
Venerable Khenpo Samdup Rinpoche was born in Tibet. Khenpo is a Tibetan scholar, meditation master, and lifelong student of His Eminence Garchen Rinpoche. He studied with numerous Khenpos, including Khenpo Munsel and Khenpo Jigme Phuntsok. He taught for five years at Kagyu College in India, founded by His Holiness Drikung Kyabgon Chetsang, from whom he received vast teachings and transmissions of the Drikung Kagyu Lineage.
His books and online curriculum, as well as his in-depth, in-person teachings may be accessed at Gar Drolma (Ohio, US) and Drikung Dharma Surya Center (Virginia, US) where he offers groundbreaking studies into the heart of Tibetan Buddhism. His outreach in universities, temples, and global communities supports education world-wide.
EDUCATE TIBET
Children of Jamar