H.E. Garchen Rinpoche Spring 2018 Retreat
For the first time, we had the great fortune of offering you the opportunity to attend three successive weekends of precious teachings and blessings given by our beloved lama and founder, H.E. Garchen Rinpoche.
Insights by Khenpo Samdup Rinpoche on this auspicious event:
"In 2018 Garchen Rinpoche will be in Dayton for three weeks and is going to give pith instructions that he has not given before. This program is very special because we have supplicated him to give teachings and practices based upon his own experience.

Usually we create a program based upon a specific text or book but with this program Garchen Rinpoche is going to teach from his own experience in this life, from the deep realization he has developed through his practice. These teachings are coming directly from his realizations of the teachings he received from his teachers. He will share the heart teachings he received from his teachers with his students to transform their minds and create immeasurable benefits."
SPONSOR A PUJA DURING ACHI and AMITABHA PRACTICES
During these practices students may make financial offerings to sponsor the puja (ritual practice) for one's personal benefit, that of another such as a family member, a deceased loved one or for anyone suffering in need of support.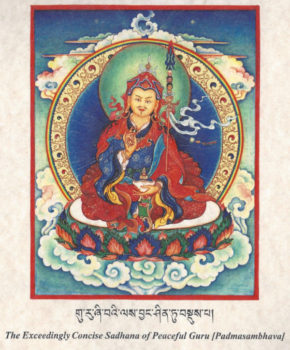 Peaceful Guru Rinpoche Booklet