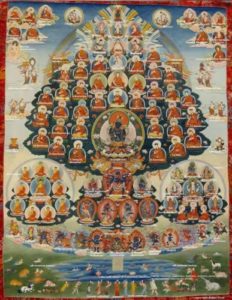 Ngondro Practice
August 24, 2017 @ 6:00 pm
-
7:30 pm
EDT
Ngondro means preliminary. This set of 3-5 practices is traditionally accomplished before one begins training in the more subtle practices of the Tantras, Mahamudra, or Dzogchen. While referred to as preliminary many masters have stated that Ngondro is a complete method by which one can attain enlightenment.
On Thursdays from 6-7:30 p.m. we will meet to discuss and practice the preliminaries (ngondro). All current ngondro practitioners, regardless of the lineage you follow and version of the practice that you engage in are welcome.
Sessions will be divided into a period of discussion followed by a period of practice. Participants may practice whichever section of ngondro they are currently accumulating. Whether you are just starting your practice, or anywhere in the midst of the process please join us for support, encouragement and group practice.
If you would like to practice ngondro, but have not received instruction, please send an email: admin@gardrolmacourses.com to arrange a time for an individual introduction to and instructions for beginning the practice.
These practices are powerful and efficient methods for accumulating merit and purifying obscurations. Practically, these trainings help develop positive, virtuous qualities, weaken and diminish obscurations and negative qualities, and render the practitioner receptive to more subtle teachings.