The Four Dharmas of Gampopa with Khenchen Konchog Gyaltshen 
September 24
@
9:00 am
–
5:00 pm
EDT
Location
At Gar Drolma Temple AND Online

‌Sa‌t. S‌ep‌t. 2‌3 ‌9a‌m-no‌on, 2‌pm-5‌pm‌
‌S‌un‌. S‌ep‌t. 2‌4 ‌9a‌m-no‌o‌n, 2‌pm-5‌pm‌

Please join us in person at Gar Drolma or online to welcome the highly revered teacher, Khenchen Konchog Gyaltshen.

Khenchen will be presenting The Four Dharmas of Gampopa based upon the commentaries by Lord Jigten Sumgon. These commentaries on this classic text encompasses the complete path of Dharma and as taught by Khenchen in a clear, accessible, compassionate and complete way.

Venerable Khenchen Konchog Gyaltshen was key to bringing the precious teachings of the Drikung Kagyu to the U.S. He established the Tibetan Meditation Center (currently in Frederick, MD) in 1982. Born in Tsari, Tibet, he studied with many masters and received his Acharya degree at the Central Institute of Higher Tibetan Studies at Varanasi.

These teachings are excellent for those new to Buddhism and experienced students alike.

Click below to request zoom link OR register for in person attendance (with lunch option).
Text Downloads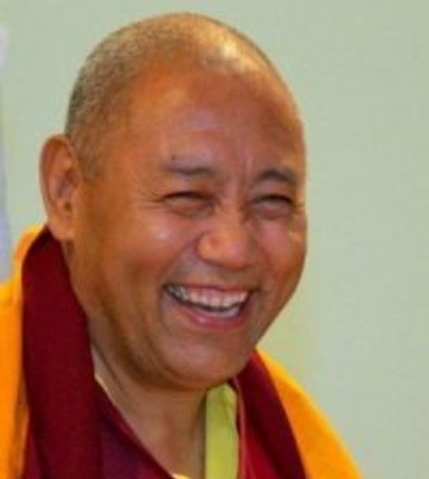 Venerable Khenchen Konchog Gyaltshen
In appreciation for these profound teachings with Khenchen, we would like to make an offering for the international sangha.
The offering will be made on Sunday at the end of the teachings. (Those attending in person will have the opportunity to make an offering at the temple.)
The link above will be closed at 4:00pm EDT Sunday September 24th.
After 4:00pm EDT Sunday, the link below can be used to make an offering to Khenchen.