Meditation Workshop
April 6, 2019 @ 10:30 am
-
12:30 pm
EDT
Relaxing into simplicity using sound, energy, breath and mind
Presenter: Robert L. Leach
Co-presenter: Thomas Marcey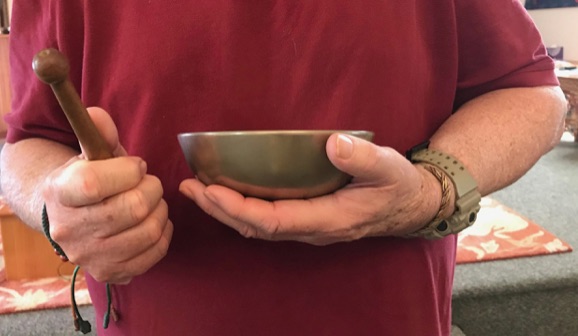 Saturday, April 6, 2019, 10:30 AM – 12:30PM
Location: Gar Drolma Buddhist Learning and Meditation Center
Eight unique traditional meditation practices and techniques that can have profound liberating effects for anyone suffering from the pressures, speed, meaninglessness, and uncertainties often associated with living in a modern world.
The eight practices that will be presented:
·        Hearing the Bell
·        Zazen
·        Mixing mind with space
·        Meditation of nondoing
·        Sky gazing meditation
·        Sounding "A"
·        Sounding "HA"
·        Gurdjieff energy posture
Suggested donation $25-35.  
All donations go to the operation of Gar Drolma Buddhist Learning & Meditation Center. All are welcome to join the retreat no one is turned away for lack of funds. Please call us at (937) 252-2220 or email info@gardrolma.org.
Presenter Bio:
Robert L. Leach is a native of Dayton, Ohio and a graduate of the University of Vermont, with a degree in Behavioral Science.  An early interest in higher consciousness and meditation eventuated in 1973 in an interview with, and instruction in zazen from, Roshi Philip Kapleau, founder of the Zen Center in Rochester, New York. Robert received his first Tibetan Buddhist teaching and transmission in 1987 at the Claymont Society in Charlestown, West Virginia. Robert shares in his workshops techniques gleaned from over forty-five years of involvement in Zen, the teachings of G.I. Gurdjieff, and especially Tibetan Buddhism.
Resources
The Three Pillars of Zen, Roshi Philip Kapleau, Anchor Books, 1989
Learning Buddhism by the Venerable Khenpo Samdup Rinpoche; Printed at Chaman Enterprises 1063, Pataudi House, Darya Ganj, New Delhi, India [Available Here]
Stages of Meditation:Awakening the Mind by the Venerable Khenpo Samdup Rinpoche; Printed at Chaman Enterprises 1063, Pataudi House, Darya Ganj, New Delhi, India [Available Here]
Being Right Here: A Dzogchen Treasure Text of Nuden Dorje Entitled The Mirror of Clear Meaning by James Low (Snow Lion Publications) http://www.simplybeing.co.uk
Transcript: Gutenstein Retreat, Austria 15‐17 May 2009
Transcript: Cutting Free Without Losing Anything, James Low, Berlin, Germany, 7-8 May, 2011
(Available in archives at http://www.simplybeing.co.uk)
Dzogchen introduction by James Low. https://www.youtube.com/watch?v=1wfxx-1uiXk
Presenter's Teachers and Teaching Locations:
Roshi Philip Kapleau
Zen Center
Rochester, New York
Roshi Bhodin Kjolhede
Zen Center
Rochester, New York
Irmis B. Popoff
(Work of G. I. Gurdjieff, P.D. Ouspensky, and J. G. Bennett)
Pinnacle Group
Sea Cliff, Long Island
See More Teachers and Teaching Locations
Sogyal Rinpoche
Prapoutel, France
Charlestown, West Virginia
Manhattan, N.Y.C.
L' Engayresque, France
Hudson Valley, New York
Palden Sherab Rinpoche and Tsewang Dongyal Rinpoche
Turtle Hill Sangha
Summertown, Tennessee
H.H. Dilgo Khyentse Rinpoche
Prapoutel, France
Nyoshul Ken Rinpoche
Prapoutel, France
Dzongsar Khyentse Rinpoche
L' Engayresque, France
Prapoutel, France
Garje Khamtral Rinpoche
L' Engayresque, France
Khenpo Sonam Rinpoche
Yellow Springs Dharma Center
Yellow Springs, Ohio
Phakchok Rinpoche
Yellow Springs Dharma Center
Yellow Springs, Ohio
Chokyi Nyima Rinpoche
Yellow Springs Dharma Center
Yellow Springs, Ohio
Venerable Traga Rinpoche
Gar Drolma Buddhist Center
Dayton, Ohio
Bhaka Tulku Rinpoche
Gar Drolma Buddhist Center
Dayton, Ohio
Chogyal Namkhai Norbu
Portland, Oregon
Manhattan, N.Y.C.
Conway, Massachusetts
H.H. Dalai Lama
San Jose, California
Findlay, Ohio
H.H. Jigme Phuntsok Rinpoche
Poolesville, Maryland
Khenpo Samdup Rinpoche
Gar Drolma Buddhist Center
Dayton, Ohio
Losel Shedrup Ling
Knoxville, Tennessee
Garchen Rinpoche
Gar Drolma Buddhist Center
Dayton, Ohio
Dr. James Low
Simply Being
London, England
Drupon Rinchen Dorjee Rinpoche
Gar Drolma Buddhist Center
Dayton, Ohio
Lama Thubten Nima
Gar Drolma Buddhist Center
Dayton, Ohio
Khenchen Tsultrim Lodro
Gar Drolma Buddhist Center
Dayton, Ohio
Bardo Tulku Rinpoche
KTD
Woodstock N.Y.
Gar Drolma Buddhist Center
Dayton, Ohio
Khenchen Konchog Gyaltshen Rinpoche
Gar Drolma Buddhist Center
Dayton, Ohio
Chagdud Tulku Rinpoche
Prapoutel, France
Khetsun Zangpo Rinpoche
Prapoutel, France
Pema Wangyal Rinpoche
Prapoutel, France
Dzigar Kongrul Rinpoche
Prapoutel France
Dzogchen Rinpoche
Prapoutel, France
Ringu Tulku Rinpoche
Prapoutel, France