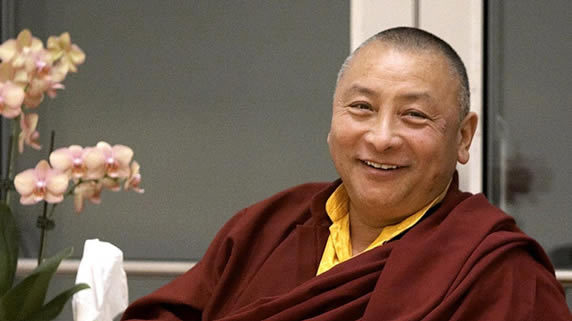 Gar Drolma is thrilled to welcome back Bardor Tulku Rinpoche. Rinpoche is a beloved teacher from the Nyingma and Karma Kagyu traditions. He has taught in the west since 1977, guiding countless students on the Buddhist path. Rinpoche is main lineage holder of the treasure teaching of Terchen Barway Dorje, a visionary 19th century Tibetan master. He is the founder and director of Kunzang Palchen Ling, a retreat center in Red Hook, NY where he teaches extensively.
Friday October 27th
7:00pm – 9:00pm
White Dzambhala Empowerment
Bardor Tulku will bestow the empowerment of the Buddha White Dzambhala. White Dzambhala is a connected with wealth, prosperity, and good fortune. Empowerment is a beautiful ritual that introduces participants to their true nature as enlightened body, speech, and mind. This introduction connects participants with their primordially enlightened nature and grants permission for developing the connection via the methods of visualization, mantra recitation, and meditation. Engaging in the practice of White Dzambhala is said to create causes for material wealth and success, allowing one to more effectively practice generosity to benefit other beings.
---
Saturday October 28th
10:00am – 12:00pm
White Dzhambala Teachings
Bardor Tulku will explain the method of practicing White Dzambhala.
12:00pm – 3:00pm: Lunch Break*
3:00pm – 5:00pm
1000 Arm Chenrezig Empowerment
Chenrezig is renowned as the embodiment of the compassion of all the Buddhas. We develop the enlightened quality of compassion through Chenrezig practice and mantra recitation as well as by compassionate conduct toward all beings.
---
Sunday October 30th
10:00am – 12:00pm
Nyungne Teachings
The Nyungne Retreat is a Tibetan Buddhist practice designed especially for lay practitioners to purify negative karma and accumulate merit and wisdom. It is a one day (Nyingne) or two day (Nyungne) practice focusing on keeping strict vows, generating the Bodhisattva attitude, and reciting the sadhana of the 1000-armed Chenrezig, the Bodhisattva of compassion. In this way, the Nyungne practice cultivates all three vehicles of Buddhism. The vows or 8 precepts that we take include not killing, stealing, or lying, and abstaining from sexual activity, intoxicants, luxury, ornaments, and entertainment for the duration of the retreat.
12:00pm – 2:00pm : Lunch Break*
2:00pm – 5:00pm
Nyungne Teachings
*Lunch will be offered
FEES:
$50-75 per day
$150-300 for full weekend
Fees are on a sliding scale to accommodate all who would like to attend.

If you are interested in attending but need financial support, please feel free to contact us at sangha@gardrolma.org or 937-252-2220.