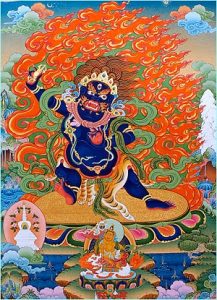 Friday:
7:00 – 8:00 pm
Saturday and Sunday:
10am-12pm
12pm-1:30pm (Lunch, included with registration)
1:30pm-4:30pm
On Friday night Khenpo will give the empowerment of Vajrapani, the Buddha of enlightened power. This ritual introduces participants to the enlightened nature of our body, speech, and mind and authorizes us to practice the visualization, mantra recitation, and meditation of Vajrapani. The practice of the wrathful buddha Vajrapani is utilized to dispel obstacles and negativity and create positive conditions for progress on the path to enlightenment.
On Saturday morning Khenpo will give the oral transmission of the liturgical practice (sadhana) of Vajrapani, teach how to perform it, and lead group practice. During the practice sessions Khenpo will also offer instruction in other meditation methods such as the generation of love, calm abiding, and insight meditation. He will explain how to blend these with meditation on Vajrapani.
Sessions on Saturday afternoon, Sunday morning, and Sunday afternoon will be dedicated to continued explanation and practice of the sadhana of Vajrapani.
Retreat Fee:
$25 per day, $40 for weekend
Students – $12 per day,  $20 for weekend
Registration is at the door. Lunch is included.
If you are interested in attending the retreat and need any financial assistance, we can accommodate your needs. Contact us at info@gardrolma.org or call 513-604-3723 for more information.