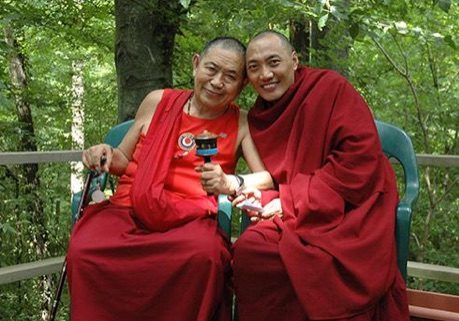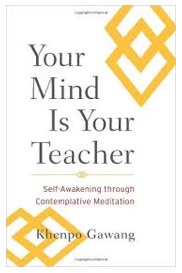 Khenpo Gawang will give four sessions of teaching about contemplative meditation on the Four Seals based on his excellent book "Your Mind is Your Teacher".
Preview his book by clicking here.
Khenpo Gawang has been a monk for more than thirty years and trained with many eminent Tibetan masters, most notably His Holiness Penor Rinpoche, who was the supreme head of the Nyingma tradition for many years. Khenpo has completed the traditional  nine year monastic study curriculum, in recognition of his achievement he was enthroned as Khenpo or "Abbot" by His Holiness Penor Rinpoche in 2006. He has taught in the United States since 2004 and speaks fluent English. Khenpo has translated several important traditional texts. He lives and teaches at the Pemakarpo Meditation Center in Memphis, Tennessee.
Friday, October 6th,  7 – 8:30pm
Developing a Peaceful Mind Thru Mindfulness Meditation
Khenpo will give teachings on calm abiding or Shiné meditation. This simple practice develops mindfulness and focus, allowing the mind to gradually come to rest in a relaxed, calm state. This process has countless benefits including more stable focus, a general sense of relaxation, and increased positive feelings. This stability is an indispensable aid for a happy life and the further development of wisdom and compassion.
No fee for Friday talk – donations are welcome
---
Saturday October 7th and Sunday October 8th
Your Mind Is Your Teacher: Self Awakening Through Contemplative Meditation
The Four Seals are:
All compounded phenomena are impermanent
All defiled states are suffering
All phenomena are empty
Nirvana is peace
Khenpo will explain these profound statements in clear language and teach how to use them as the basis of contemplative or analytical meditation that gradually reduces and eventually eliminates disturbing emotions and suffering. Regarding the benefits of such contemplation Khenpo Gawang states:
" Through contemplative practice we learn to investigate reality by looking carefully at our own mind and everyday life. Through this we transform our view-the reality that we take to be truth-and this new outlook will transform our experience of everyday life."
Teaching schedule (repeated both days)
10:00am-12:00pm:  Teachings & Meditation Practice
12:00pm-1:30pm:  Lunch*
1:30pm-4:30pm: Teachings & Meditation Practice
*Lunch will be provided
Fees:
$30 per day,  $50 for the weekend
Registration will be at the door beginning at 9:00am